Sylvain, tour guide at the Mémorial and surrounded by history
Sylvain, guide at the Mémorial for Peace, has a family history that is closely related to History and the 2nd World War. A heritage that resounds in this time of the of the D-Day Landing's commemorations.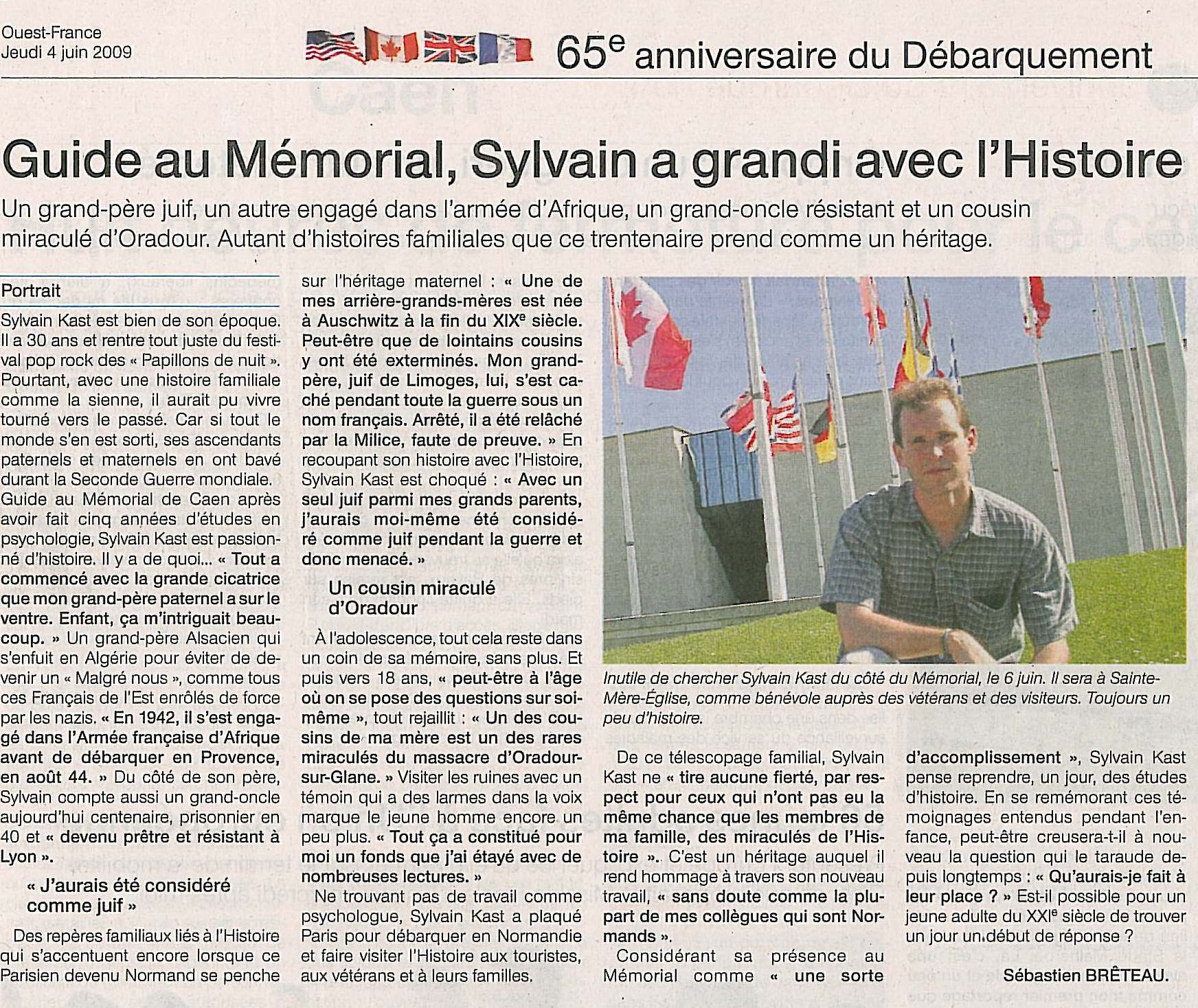 Ouest-France                                                                                                                                                        D-Day Landing 65th anniversary
4th of June 2009
Tour Guide at the Mémorial, Sylvain grew up with history.
A jewish grandfather, another one enlisted volunteer in the French African Army, a granduncle who was in the Resistance and a cousin who miraculously survived the Oradour massacre. A lot of family stories that the 30-years old considers as a heritage.
          Sylvain Kast is a modern young man. He is 30 years old and just came back from the rock pop festival "Papillons de nuit". Nevertheless, with a family history like his, he could have lived turned towards the past. Because even if everybody survived, his maternal and paternal ancestors had suffered a lot during World War 2. Being now a tour guide at the Mémorial de Caen after having studied psychology for five years, Sylvain Kast is passionate about history. And that's comprehensible. "Everything started with the big scar that my paternal grandfather has on his belly. Something I was intrigued about when I was a child". A grandfather from the Alsace region who fled to Algeria to avoid to become a "Malgré nous" [literally : « despite ourselves »] , like all those French living in the east who were drafted by force by the Nazis in the German army. In 1942 he had enlisted in the French African Army before he landed in Provence in august 1944. On his paternal side, Sylvain also counts a granduncle, being today 100 years old, who was a prisoner in 1940 and became a priest and resistance fighter in Lyon.
"I would have been considered as jewish"
           Family marks linked to history that emphasize even more when this Parisian, that has become a Norman, talks about his maternal heritage. "One of my great-grandmothers was born close to Auschwitz at the end of the 19th century. Maybe some distant cousins were exterminated there. My grandfather, a jew from Limoges, had been hiding under a false name during the whole war. After being arrested, he was released by the milice, for lack of proof". Linking his family story with history, Sylvain is shocked: "With one jew among my grandparents, I would have been considered as jewish myself and would have been in danger".
« A cousin who is a miraculous survivor of Oradour »
            Being a teenager, all of this stays in a corner of his mind, nothing more. And then, at the age of 18, maybe the age when you start to question yourself, everything came back to surface: "Some of my mother's cousins are one of the few miraculous survivors of the massacre of Oradour-sur-Glane" (642 civilians murdered in atrocious conditions by the 1st Company/4th PanzerGrenadier Regiment – 2nd SS armoured division « Das Reich » on the 10th of june 1944). Visiting the ruins with a witness who has tears in his voice marks the young man even a bit more. "All this established a basis that I amplified with numerous readings".
            Not able to find a job as a psychologist, Sylvain Kast left Paris for Normandy in order to show history to tourists, veterans and their families. He doesn't draw any pride from this family maelstrom "out of respect for all those who didn't have the same chance as my relatives, miraculous survivors of history". It is a heritage he pays tribute to with his new job "without a doubt like most of my colleagues who are Normans". Considering his presence at the Mémorial like a kind of fulfilment, Sylvain Kast wants to study history one day. Thinking back to those testimonies he had heard during his childhood, maybe he will clarify the question that has been gnawing at him for a long time : "What would I have done in the same situation" ? Is it possible for a young adult of the 21st century to find, one day, a beginning of the answer?
Sébastien Brêteau